Mr. President, I was litterally stunned to find out that you, in fact, had the balls to order the deaths of someone who actually needed it.
I was prepared to come in here and give you an "atta boy" for doing what had to be done. But then I find this out about you: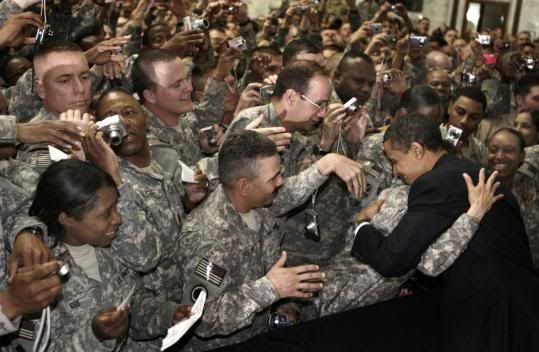 ..and all of a sudden, soldiers were jumping around like puppies while you had a porkchop tied around your neck.
I thought it was bogus. But I couldn't put my finger on it. Fortunately, the fine folks at
Flopping Aces
, via
NW Republican,
got their entire hands on the issue. And you look like a despicable punk as a result.
Visited 5679 times, 154 so far today
"Cheered wildly by U.S. troops," begins Jennifer Democratic Operative Loven's AP report on Obama's surprise visit to Iraq on Tuesday.
Quite a contrast to the silent treatment Marines gave Obama at his Camp LeJeune speech in late February. Just how did Obama manage to fix that little problem?
According to a sergeant in Iraq :
We were pre-screened, asked by officials "Who voted for Obama?", and then those who raised their hands were shuffled to the front of the receiving line. They even handed out digital cameras and asked them to hold them up. [Via Macsmind.]
As supporting evidence for the digital-cameras part of the story, the sergeant (or Mac, can't tell which), suggests that the identical cameras can be verified in the AP photos. Looks right: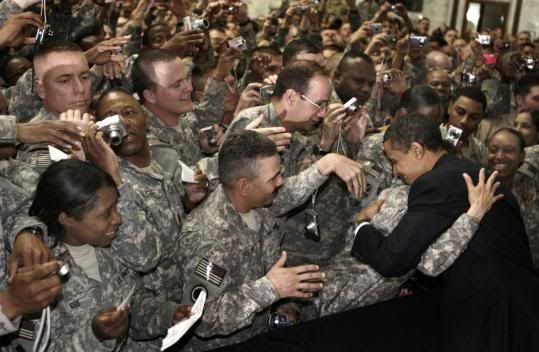 Charles Dharapak/associated press
So will the press cover this evidence of a staged and unrepresentative show of military affection for our anti-military president? The reporters were there. Did they actually see the troops being sorted by whether they voted for Obama, which the sergeant describes as happening on the spot?